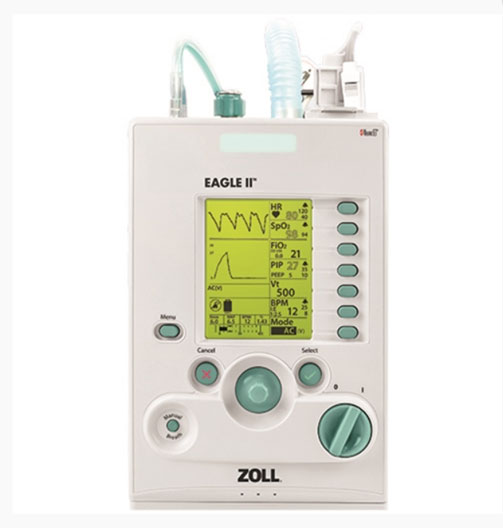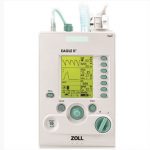 Zoll Eagle II
Portable Ventilator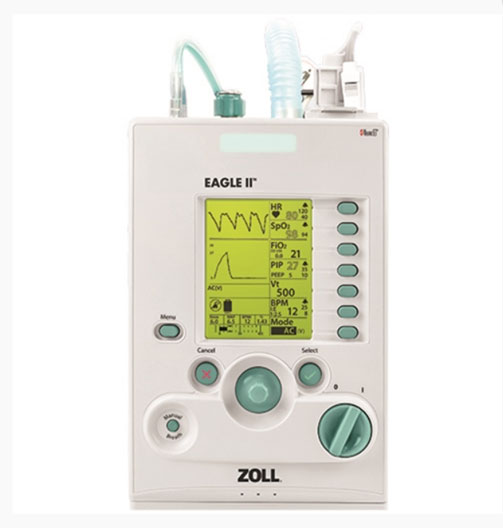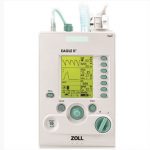 Zoll Eagle II
Portable Ventilator
Description
Zoll Eagle II MRI Features
The Zoll Eagle II MRI portable ventilator provides safe, high-quality therapy for ventilated patients who need magnetic resonance imaging. With this fully featured ventilator, infants (≥5 kg) to adults receive the same high-quality ventilation as at the bedside. And the Eagle II uses Smart Help technology to enhance patient safety by providing real-time, on-screen prompts that guide clinicians when responding to alarms.
Supports infants (≥5 kg), pediatric patients, and adults
AC mode; SIMV and CPAP (NPPV/PPV) modes with pressure support
10-hour battery run-time; rapidly recharges in 2 hours
Oxygen efficient: all O2 goes to the patient, minimizing O2 use
Smart Help technology for alarm resolution
Zoll Eagle II MRI Specifications
Dimensions
Height: 12.5 In (31.8 cm)
Width: 8 In (20.3 cm)
Depth: 4.5 In (11.4 cm)
Weight: 9.7 lbs. (4.4 kg)
Operating Modes
AC, SIMV with or without pressure support, and CPAP (NPPV/PPV) with or without pressure support.
Breath Target
General
Flow Rate: 0 to 100 LPM @ 40 cm H2O (3922 Pa)
Breath Rate: 1 to 60 BPM
Tidal Volume: 50 to 1500 ml ATPD +/- 10% of setting
Inspiratory Time: 0.3 to 3.0 seconds
I:E Ratio: 1:1 to 1:99.9
FiO2: 21 to 100% +/- 3% of full scale +/- 10% of setting
PEEP: 0 to 25 cm H2O (0 to 2451 Pa)
Peak Inspiratory Pressure (PIP): 10 to 80 cm H2O (980 to 7845 Pa)
Trigger Sensitivity: -0.5 to -6.0 cm H2O (-49 to -588 Pa)
Oxygen Input Pressure: 55 psig (-25%; + 20%) (379170 Pa)
Battery
Operating Time: Internal battery 10 hours
Power
Operating Voltages: 100 to 240 VAC (50/60 Hz) or 12.5 to 28.0 VDC
More Detail