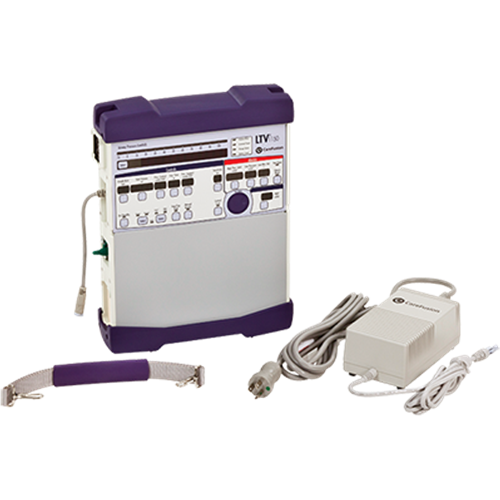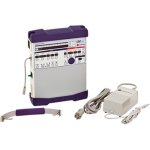 Vyaire LTV 1150
Portable Ventilator
Description
Vyaire LTV 1150 Ventilator Features
The Vyaire LTV 1150 ventilator provides portable, advanced ventilation for adult and pediatric patients at home or a post-acute care facility. At only 14 lb, the ventilator provides a wide range of ventilation therapies to meet demanding patient needs, including volume control, pressure control, pressure support and spontaneous breath types.
Confidence – The LTV 1150 ventilator combines high-level patient care with clear, easy operation for the caregiver. A patient on an LTV 1200 ventilator in a hospital may transfer almost seamlessly to the LTV 1150 to go home. This reduces strain on the patient and increases the caregiver's confidence that their patient will have a successful transition to home. The LTV ventilator offers easy and secure solutions for travel, reducing the need for any changes in patient care, or caregiver training to move smoothly through both the interruptions and routines of daily life.
Versatility – The compact shape of the LTV 1150 ventilator allows unprecedented portability and convenience in a home care ventilator. Use the LTV ventilator on a stand, in a backpack or in a custom carrier. Mount it on a wall, the frame of a bed or have multiple mounting places throughout your home or care center using the LTV dovetail bracket mounting system. You may even install a mounting bracket in your automobile or van.*
Comfort – Use the LTV 1150 ventilator with the SprintPack Lithium-Ion Power System and travel with comfort and confidence. The SprintPack dual battery system provides up to 5 hours of battery power when fully charged. In addition, the LTV 1150 ventilator has an internal battery for emergency back-up, providing an extra layer of security.
Vyaire LTV 1150 Ventilator Specifications
Dimensions
W 10.5" (2cm) x H 3.25" (8.4cm) x D 13.5" (38cm)Weight:14.5lbs (65 kg))
Controls
Power On/Standby
Ventilation modes Control, Assist/Control, SIMV/CPAP and NPPV
Breath types VC, PS and Spontaneous
Breath rate 0–80 BPM
Tidal volume 50–2,000 mL
Inspiratory time 0.3–9.9 sec
PS/spontaneous flow 160 LPM
Pressure support 1–60 cmH2
O (PEEP compensated)
Flow sensitivity Off, 1–9 LPM
PEEP/CPAP 0–20 cmH2O
Manual breath 1 x current settings
Control lock Easy or hard unlock
Enviromental Specifications
Operating temperature 5–40°C (40–104°F)
Storage temperature -20 to 60°C (-4 to 140°F)
Operating humidity 15–95% relative
Storage humidity 10–95% relative
Shock compliance IEC 68-2-27, MIL-STD-810E
Vibration compliance IEC 68-2-34 and 68-2-6, MIL-STD-810E
Monitors and indicators
Peak inspiratory pressure 0–120 cmH2O
Mean airway pressure 0–99 cmH2O
PEEP 0–99 cmH2O
Breath rate 0–250 BPM
Airway pressure display -10 to 108 cmH2O
Exhaled tidal volume 0–4,000 mL
Exhaled minute volume 0–99.9 liters
I:E ratio 99:1 to 1:99
Calculated peak flow 10–100 LPM
Extended Features
Spontaneous breathing trial (SBT)
Bias flow off (pressure trigger)
Pressure support variable rise time
Pressure support variable flow termination
Pressure support variable time termination
Flow termination 10–40% peak flow
Leak compensation
Sigh
Apnea backup ventilation delivers 150% every 99 breaths or 7 minutes
Pneumatic specifications
Low pressure O2 source < 80 LPM, < 10 PSIG
External power Green and amber LEDs
Battery charge status Green, amber and red LEDs
Battery level Green, amber and red LEDs
Power specifications
Ventilator input 11–15 VDC
AC adapter 100–250 VAC, 50–60 Hz
More Details