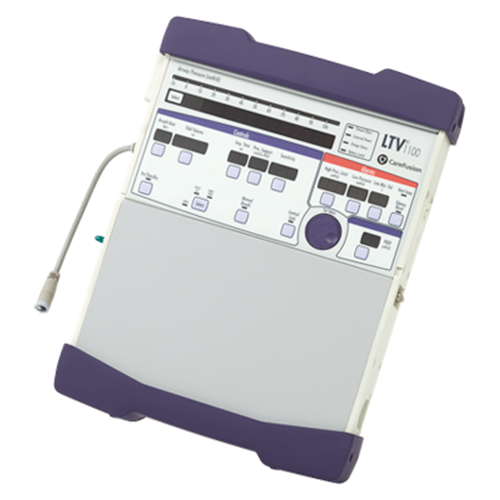 Vyaire LTV 1100
Ventilator
Description
Vyaire LTV 1100 Ventilator Features
For patients who require volume ventilation, the Vyaire LTV 1100 ventilator cost-effectively offers invasive and noninvasive ventilation modes in pressure support, volume control, and spontaneous breath types. Small and easy to use, it also provides portability for patients on the move or at home—whether on a stand, in a backpack or in a custom carrier.
A wide range of ventilation therapies for patients—The LTV 1100 ventilator offers both invasive and noninvasive modes of ventilation in Pressure Support, Volume Control, and Spontaneous breath types, delivered with flow triggering. An O2 source can be used to bleed in oxygen. The addition of SIMV/CPAP and apnea backup combine to create powerful portable ventilation technology.
Simple user operation—The easy-to-read LED display panel and front panel buttons combine to provide quick and convenient user operation
Multiple power sources—A wide variety of power sources are available for the LTV 1000 ventilator. The internal battery offers an extra layer of power protection to ensure security and confidence for your patient and the caregiver. The LTV 1100 ventilator can be connected directly to a wall outlet using the LTV AC adapter, to an automobile power adapter or to external battery options, including our SprintPack Battery Lithium-Ion Power System.
Vyaire LTV 1100 Ventilator Specifications
Dimensions
W 10.5" (2 cm) x H 3.25" (8.4 cm) x D 13.5" (38 cm)
Weight: 14.5lbs (6.5 kg)
Controls
Power On/Standby
Ventilation modes Control, Assist/Control, SIMV/CPAP and NPPV
Breath types VC, PS and Spontaneous
Breath rate 0–80 BPM
Tidal volume 50–2,000 mL
Inspiratory time 0.3–9.9 sec
PS/spontaneous flow 160 LPM
Pressure support 1–60 cmH2
O (PEEP compensated)
Flow sensitivity Off, 1–9 LPM
PEEP/CPAP 0–20 cmH2O
Manual breath 1 x current settings
Control lock Easy or hard unlock
Enviromental Specifications
Operating temperature 5–40°C (40–104°F)
Storage temperature -20 to 60°C (-4 to 140°F)
Operating humidity 15–95% relative
Storage humidity 10–95% relative
Shock compliance IEC 68-2-27, MIL-STD-810E
Vibration compliance IEC 68-2-34 and 68-2-6, MIL-STD-810E
Monitors and indicators
Peak inspiratory pressure 0–120 cmH2O
Mean airway pressure 0–99 cmH2O
PEEP 0–99 cmH2O
Breath rate 0–250 BPM
Airway pressure display -10 to 108 cmH2O
Exhaled tidal volume 0–4,000 mL
Exhaled minute volume 0–99.9 liters
I:E ratio 99:1 to 1:99
Calculated peak flow 10–100 LPM
Extended Features
Spontaneous breathing trial (SBT)
Bias flow off (pressure trigger)
Pressure support variable rise time
Pressure support variable flow termination
Pressure support variable time termination
Flow termination 10–40% peak flow
Leak compensation
Sigh
Apnea backup ventilation delivers 150% every 99 breaths or 7 minutes
Pneumatic specifications
Low pressure O2 source < 80 LPM, < 10 PSIG
External power Green and amber LEDs
Battery charge status Green, amber and red LEDs
Battery level Green, amber and red LEDs
Power specifications
Ventilator input 11–15 VDC
AC adapter 100–250 VAC, 50–60 Hz
More Details