Vyaire CareFusion LTV Series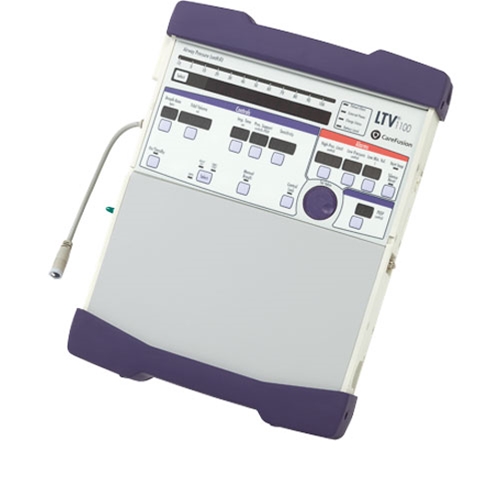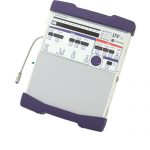 Vyaire CareFusion LTV Series
Ventilator
Description
Vyaire CareFusion LTV Series Ventilator
For patients who require volume ventilation, the LTV 1100 ventilator cost-effectively offers invasive and noninvasive ventilation modes in pressure support, volume control, and spontaneous breath types. Small and easy-to-use, it also provides portability for patients on the move or at home—whether on a stand, in a backpack or in a custom carrier.
Vyaire CareFusion LTV Series Ventilator Features
General
High performance ventilation in a small lightweight package (10" x 12" x 3", 13.4 lbs).
Turbine technology allows the LTV Series ventilator to operate without an external compressed gas source.
CPAP5, SIMV6, Control, Assist / Control and Apnea Backup ventilation modes.
NPPV7 mode ventilation, providing an alarm package suitable for mask ventilation of patients that do not require life support ventilation.
Volume Control, Pressure Control (optional) and Pressure Support ventilation.
Variable alarm settings including High Peak Pressure, Low Peak Pressure, Low Minute Volume, Apnea, High Breath Rate, and High PEEP.
Oxygen Blending from a High-Pressure Oxygen source, Low-Pressure Oxygen Bleed-in, O2 Flush, and O2 Cylinder Duration Monitoring on the LTV® 1000, and Low-pressure Oxygen Bleed-in on the LTV 950 and 900.
Lockable front panel controls.
Monitors for Breath Rate (f), I:E Ratio, MAP, Minute Ventilation (VE), PEEP, PIP and Tidal Volume (Vte).
Real-time patient circuit pressure display with Peak Inspiratory Pressure indicator.
Variable termination conditions for Pressure Support breaths, including maximum inspiratory time termination and percentage of peak flow.
Selectable Percentage of Peak Flow termination for Pressure Control breaths.
Leak Compensation to improve triggering when a circuit leak is present.
Single or dual tone output capabilities.
Operation from a variety of power sources including AC power, internal battery and external DC power sources.
More Details