The Respiratory System: Systems of the Body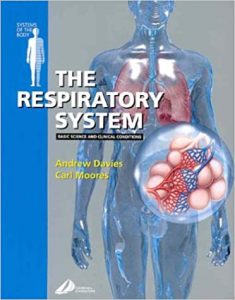 Davies & Moores
Publisher: Churchill Livingstone
Year: 2001
ISBN: 0443062315
10-Used Books Available
Part of the Systems of the Body Series, this concise text offers coverage of the core knowledge required on the respiratory system. An ideal text for system-based, integrated courses, it stresses the relevance of basic science to clinical medicine ― a clinical case is used to derive the learning objectives at the beginning of each chapter. It also prepares the student for early patient contact with a final section covering the major diseases of the system and their diagnosis and treatment.
Integrated coverage of the structure, function, and major diseases of the respiratory system ― highly suitable for systems courses
Coverage of the basic science that is clinically driven ― a common clinical presentation introduces each major topic
Clinical cases that are used and explained in the chapter
Coverage of major diseases of the respiratory system that equips students for early contact with patients
A structure that encourages learning ― objectives are defined at the beginning of the chapter, and self-assessment questions are provided at the end
Click Here to buy on Amazon!