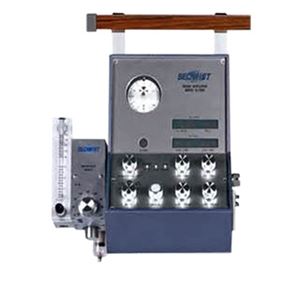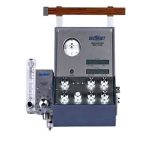 Sechrist IV-100B
Infant & Pediatric Ventilator
Description
Sechrist IV-100B Features
The Sechrist IV-100B Infant Ventilator addresses infant ventilation needs with easy-to-use controls that permit rapid setting of ventilation parameters and allow clinicians to fine-tune to the greatest accuracy. The built-in displays provide easy-to-read continuous ventilation parameter information. The alarm system is comprehensive, but avoids information overload during alarm conditions. To prevent inadvertent PEEP when higher flow rates are required, a special exhalation value block and pediatric circuit are available.
The IV-100B is capable of meeting the most demanding requirements of the intensive care unit. You can ventilate newborn to pediatric patients with precise control of oxygen concentration, at respiratory rates of 1 to 150 breaths per minute. The Inspiratory and Expiratory Pressure controls are non-interactive. A simple, yet comprehensive alarm system monitors the parameters you have set up and notifies you of significant changes.
Infant/Pediatric Ventilator with O2 Blender
Addresses the infant ventilation needs simply and reliably
Easy-to-use controls permit rapid setting of ventilation parameters and allow the clinician to fine tune to great accuracy
The built-in displays provide easy-to-use continuous ventilation parameter information
Sechrist IV-100B Specifications
Dimensions
Height: 13″ (33.02 cm)
Width: 14″ (35.56 cm)
Depth: 9″ (23.00 cm)
Weight Net: 21 lbs. (9.54 Kg)
Power
117 VAC 50/60 Hz, Circuit Breaker Protected, 3-Wire SJT Power Cord Provided, Hospital-Grade Plug, Current leakage less than 20 micramps when tested per UL 544
General
Recommended Applications: Neonatal, Infant, and Pediatric Ventilation
Flow: 0-32 LPM, Flush 40 LPM
FiO2: 0.21 to 1.00
Mode: OFF, CPAP, VENT
Inspiratory Time: 0.10 to 2.90 sec.
Expiratory Time: 0.30 to 60.0 sec.
I : E Ratio: 10:1 to 1:600 (Readout 1:0.1 to 1:99)
Rate: 1 to 150 BPM
Expiratory Pressure: 2 to 20 cm H2O; Zero Baseline possible at 24 LPM and higher rates
Inspiratory Pressure: 5 to 70 cm H2O
Manual Breath: Yes
Alarms: Independent for Microprocessor; Low Airway Pressure, Leaks, Patient Disconnect, Fail to Cycle, Apnea, Prolonged Inspiration, and Peak Overpressure
Alarm Delay Time: 3 to 60 sec.
Alam Mute: 30 sec. ± 5 sec.
More Details