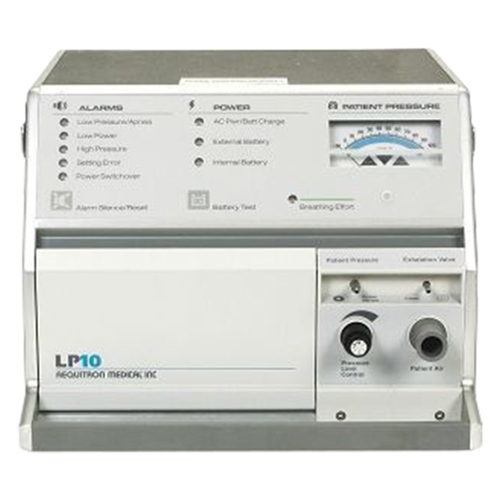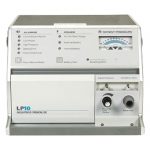 Puritan Bennett LP10
Ventilator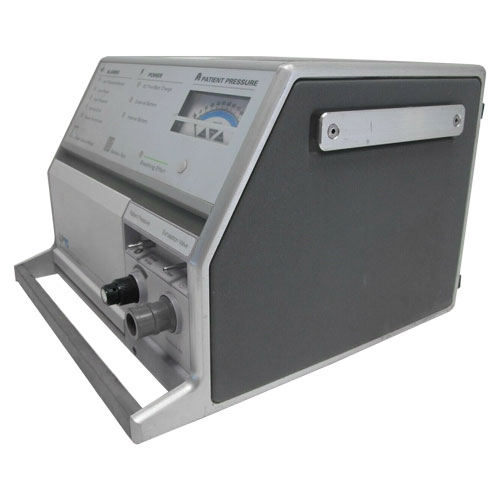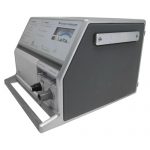 Puritan Bennett LP10
Ventilator
Description
Puritan Bennett LP10 Ventilator Features
The
Puritan Bennett LP10
ventilator is a microprocessor-controlled volume ventilator that provides continuous respiratory support for patients with respiratory insufficiencies in a skilled nursing facility or hospital, or during transport. The compact design of the Puritan Bennett LP10 and its light weight make the units highly portable. The LP10 offers a wide range of delivery volumes, inspiratory times, and breathing rates. The physician or the respiratory therapist can set the appropriate ventilation via the control located in the recessed front panel.
Lightweight and highly portable.
Meets a broad range of pediatric and adult needs.
Decreased internal resistance that reduces breathing efforts in SIMV mode.
Reliable ventilator monitoring displays.
Designed for smooth transition from critical care ventilation.
Puritan Bennett LP10 Ventilator Specifications
Dimensions
Height: 9.75" (24.6 cm)
Width: 14.5" (36.8 cm)
Depth: 13.25" (33.6 cm)
Weight: 25lbs (15.9 kg)
Setting Parameters
Mode: Assist/control, SIMV or Pressure Cycle
Volume: Adjustable from 100 to 2200 mL
Inspiratory Time: Set time from 0.5 to 5.5 seconds
Sensitivity: Set pressure from 1 to 10 cm H20/hPa
Breath Rate: Set breathing rate: 1 to 38 BPM
Pressure Limit: Off, 15-50 cm H20/hPa
Low Pressure: Set for 2 to 32 cm H20/hPa
High Pressure: Set for 15 to 90 cm H20hPa
Flow: 20 to 100 L/min
Alarms
Low Pressure/Apnea, High Pressure, Setting Error, Power Switchover, Low Power and Vent Fail
Alerts
External Battery, Internal Battery, Battery Charge and Breathing Effort
Additional Indicators/Connections
Alarm Silence/Reset: Push button for alarm silence/reset; Used with Battery Test button to read operating hours on Patient Pressure meter.
Battery Test: Push button to show charge level on lower window of Patient Pressure meter.
Patient Pressure Port, Patient Air Port: 22 mm O.D./15 mm I.D. and Exhalation Valve Port.
Reach Panel Components/Connections
Inlet Filter, AC Power, External Battery, Communication Port (RS232), Remote Alarm, Nurse Call Port
Maintenance
Preventive maintenance every 6000 hours or recertification every 12 months, whichever is first.
More Detail