Philips Respironics Trilogy Ventilator 202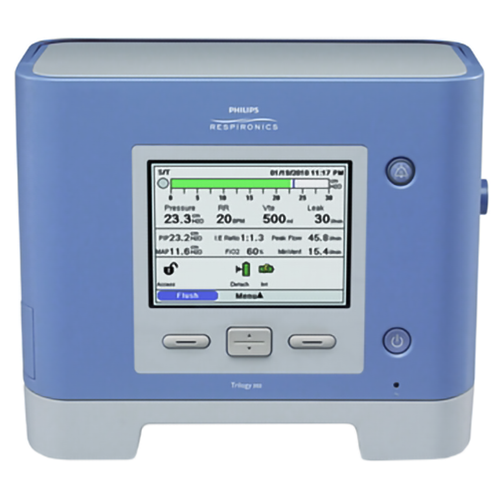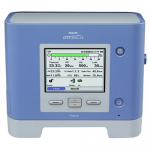 Philips Respironics Trilogy 202
Ventilator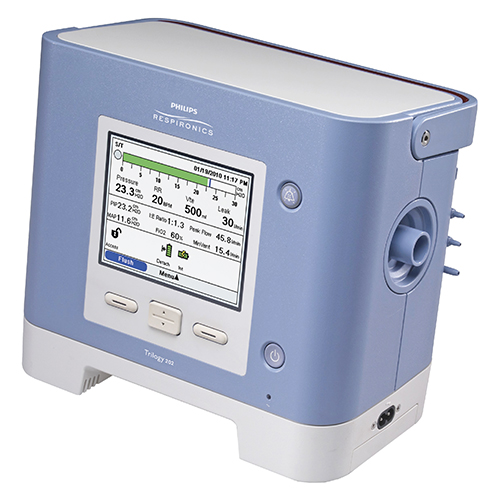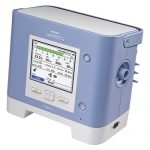 Philips Respironics Trilogy 202
Ventilator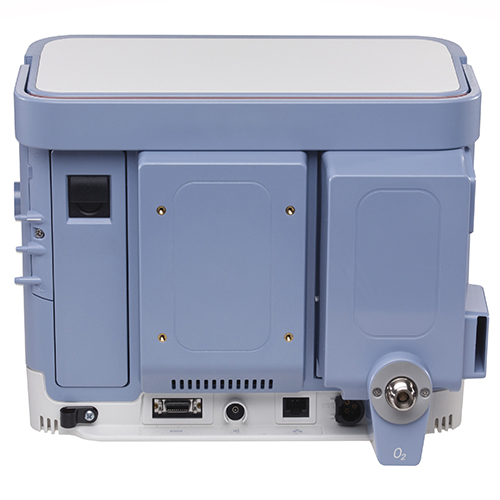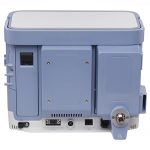 Philips Respironics Trilogy 202
Ventilator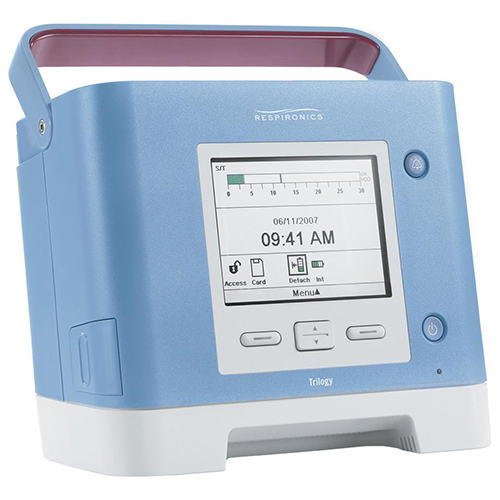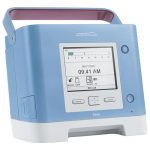 Philips Respironics Trilogy 202
Ventilator
Description
Philips Respironics Trilogy Ventilator 202 Features
The
Trilogy Ventilator 202
is both a volume-control and pressure-control ventilator for invasive and noninvasive ventilation. The versatile breath delivery and setup options of the trilogy ventilator free you from burdensome equipment exchanges, providing greater continuity of care for your patients. Because the Trilogy 202 has the unique ability to compensate for leaks in both pressure and volume control modes, using simpler passive circuits may support significant time and cost savings. With one simple setting change, the Trilogy 202 supports either active or passive exhalation breathing circuits to accommodate changes in circuit preference.
Compact design with long-life internal battery for intra-hospital transport.
Supports active and passive circuits for invasive and noninvasive ventilation.
Innovative leak compensated volume control ventilation.
Versatility of the Trilogy Ventilator
The Auto-Trak algorithm improves patient-ventilator synchrony by adjusting to changing breathing patterns and dynamic leaks. The auto-adaptive triggering, cycling, and leak adjustments may help reduce the time clinicians spend adjusting alarm thresholds and re-fitting masks. It offers all the conventional volume-control modes such as; AC, SIMV (with or without PS), and CV. When cuff leaks are present or even during noninvasive ventilation the ventilator has a unique ability to compensate for pressure. Setup is simple with the trilogy 202, whether you are in a sub-acute or chronic care environment. The color screen and intuitive user-interface allow rapid changes in settings for a wide range of patients. The system is integrated blender provides oxygen administration from 21 percent to 100 percent. This device has the ability to support two different treatment prescriptions. When prescribed, the Trilogy ventilator provides numerous special features to help make therapy more comfortable. For example, the ramp function allows you to lower the pressure when trying to fall asleep. The air pressure will gradually increase until the prescription pressure is reached. Additionally, the flex comfort feature provides increased pressure relief during the expiratory phase of breathing. The ventilator can be operated using several different power sources including the Lithium-Ion battery. The battery is automatically used when the detachable lithium-Ion battery pack, external Lead Acid battery, or AC power is not available.
Intra-Hospital Transport
The Philips Trilogy allows freedom of movement, the three-hour internal battery, and optional three-hour detachable battery provide sufficient power for intra-hospital transports. The three-hour battery allows for plenty of time for any delays or detours you may encounter in the transport process. This small Philips ventilator has an integrated carrying handle, and a weight of approximately 12.3 lbs or 5.6 kg, which facilitates the convenient handling during an intra-hospital transport.
Data Storage
The Respironics Trilogy 202 has a secure digital (SD) card slot that conveniently stores historical ventilator data. The data is stored so that you can review treatment trends using our DirectView software. Using DirectView software you can view; Breath-by-breath waveforms, short-term and long-term trends, and statistics and usage patterns. Clinicians are also able to upload prescription via SD card.
Philips Respironics Trilogy Ventilator 202 Specifications
Controls
CPAP : 4 – 20 cmH20 (passive leak port circuits) cm H2O
IPAP: 50 cm H2O
EPAP/PEEP (a) : 0 – 25 cmH20 (active valve circuits) cm H2O
EPAP/PEEP (b): 4 – 25 cmH20 (passive leak port circuits) cm H2O
Pressure support: 0 – 30 cmH2O cm H2O
Tidal volume: 50 – 2000 ml
Breath rate(a): 0 – 60 BPM (AC mode) beats per minute
Breath rate(b): 1 – 60 BPM (all other modes) beats per minute
Inspiratory time: 0.3 – 5.0 s Synchrony features
Rise time: 1 – 6 (relative scale)
Ramp start pressure (a): 0 – 25 cmH20 (active circuits) cm H2O
Ramp start pressure (b): 4 – 25 cmH20 (passive circuits) cm H2O
Ramp start pressure (c): 4 – 19 cmH20 (CPAP mode) cm H2O
Ramp time Off: 5 – 45 min
C-Flex Off: 1 – 3 (relative scale)
Flow trigger sensitivity: 1 – 9 l/min
Flow cycle sensitivity: 10 – 90 %
Environmental
Operating temperature: 5 – 40 °C
Relative humidity: 15 – 95 %
Storage temperature: -20 – 60 °C
Atmospheric pressure: 60 – 110 kPa (450 – 825 mmHg)
Electrical
Input voltage: 100 – 240 VAC and 50/60 Hz and 2.1 A
Detachable battery voltage: 14.4 VDC
Internal battery life: 3 hours under normal conditions hr
Detachable battery life: 3 hours under normal conditions hr
external battery connection: 12 VDC
Volume Modes
MPV Mouthpiece Ventilation Mode: Yes
Pressure control (PC): Yes
Synchronized intermittent mandatory ventilation (SIMV): Yes
SIMV with pressure support (SIMV w/PS): Yes
Control ventilation (CV): Yes
Alarms
Low tidal volume Off: 50 – 2000 ml
Circuit disconnect Off: 10 – 60 sec
Apnea Off: 10 – 60 s and 4 – 60 BPM
High tidal volume Off: 50 – 2000 ml
High minute ventilation Off: 1 – 99 l/min Off, 1 – 99 l/min
Low minute ventilation Off: 1 – 99 l/min
High respiratory rate Off: 4 – 80 beats per minute
Low respiratory rate Off : 4 – 80 beats per minute
Pressure Modes
Pressure control (PC): Yes
Pressure control-SIMV (PC-SIMV): Yes
Spontaneous ventilation (S): Yes
Spontaneous ventilation with timed back-up (S/T): Yes
Timed ventilation (T): Yes
Options
Detachable back-up battery: Offering up to 3 hours additional operating time
Hospital roll stand: Provides convenient accessory basket and humidifier mount
DirectView: 1 GB SD card data storage integrated into the ventilator software
Monitored Parameters
Tidal volume: 0 – 2000 ml
Minute ventilation: 0 – 99 l/min
Estimated leak rate: 0 – 200 l/min
Respiratory rate: 0 – 80 beats per minute
Peak inspiratory flow: 0 – 200 l/min
Peak inspiratory pressure: 0 – 99 cm H2O
Mean airway pressure: 0 – 99 cm H2O
% patient triggered breaths: 0 – 100 %
I:E ratio: 9.9:1 – 1:9.9
Synchrony Features
Auto-Trak sensitivity: Auto-Trak sensitivity Auto-adaptive triggering, cycling, and leak compensation (available in all modes, passive circuit only)
Adjustable flow triggering: 1 – 9 l/min (available in all modes and circuit types) l/min
Circuit Types
Active exhalation valve with proximal airway pressure (PAP): Yes
Active exhalation valve with flow sensor: Yes
Passive exhalation port: Yes
More Details