Philips Respironics PLV-102b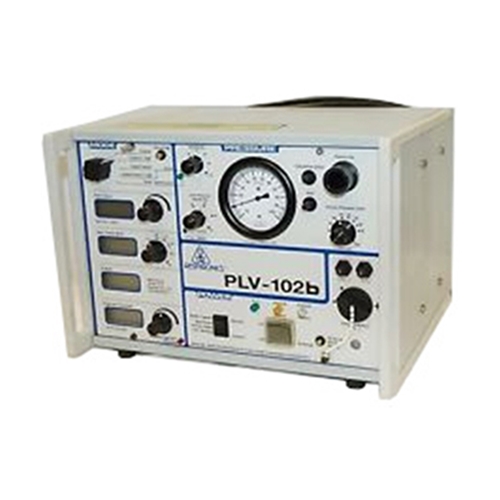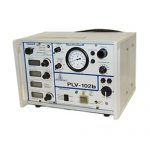 Philips Respironics PLV-102b
Ventilator
Description
Philips Respironics PLV-102b Ventilator
Microprocessor controlled portable volume ventilator that is capable of ventilating a wide range of patients. Suited to transport and portable applications due to its small size. Capable of ventilating pediatric and adult patients.
Control and Control-Assist Modes with optional Sigh and SIMV mode.
Six Alarm Codes assist in troubleshooting.
Adjustable from -6 to +18 cm H2O, which allows for use of PEEP up to 20 cm H2O.
Automatic, Continuous Sensitivity Corrections for barometric pressures changes.
Multiple Power Sources include 120 volts AC, an internal 12 volt DC battery and an external 12 volt DC battery.
Philips Rrespironics PLV 102B Specifications
Dimensions
Height: 9 in (22.9 cm)
Width: 12.25 in (31.1 cm)
Depth: 12.25 in (31.1 cm)
weight: 28.9 lbs (31.1 g)
Power
120 VAC 50/60 Hz
12 VDC External Battery
12 VDC Internal Battery
Front Panel Controls
Mode Selection: Control, Control + Sigh, Assist/Control, Assist/Control + Sigh, SIMV
Tidal Volume: 0.05 to 0.20 ± 0.02 liters; 0.20 to 3.00 liters ± 10%
Sign Volume: 150% of Set Tidal Volume
Sign Frequency: 1 Sign Breath every 100 Tidal
Breath Rate: 2 to 35 BPM ± 0.5; 36 to 40 BPM ± 2
Inspiratory Flow Rate (Peak flow rate during inspiratory time): 10 to 120 LPM
Battery Test Switch: Test Internal/External Battery
Main Power Switch: On/Off, Recharge
DC Circuit Breaker: Push/Pull Actuation
AC Circuit Breaker: Push/Pull Actuation
Airway Pressure Limit: 5 to 100 cm H2O ± 5
Sensitivity: +18 cm H2O ± 1 to at least -6 cm H2O
Low Pressure Alarm: 2 to 40 cm H2O ± 2; 41 to 50 cm H2O ± 5
Manual Sigh: Push to Activate One Breath
Oxygen Percent (See Operators Manual for Oxygen Delivery Limitations): 21% to 90% ± 6%
Oxygen Sensor – SIMV Operation (See Operators Manual for Oxygen Delivery Limitations): 21% to 90% ± 10%
30 Second Alarm Silence: Push to Activate
Front Panel Visual Indicators
Manual Sigh: Yellow Indicator Light
Tidal Volume: Digital Display
Rate: Patient Breaths Per Minute – Digital Display
I:E Ratio: Digital Display
Inspiratory Flow Rate: Digital Display
Increase Inspiratory Flow: Red Indicator Light
120 VAC Power Source: Green Indicator Light
Patient Airway Pressure: -10 to 100 cm H2O ± 5 (Pressure waveform is sinusoidal)
Internal DC Power Source: Amber Indicator Light
External DC Power Source: Yellow Indicator Light
Assisted/Spontaneous: Green Indicator Light
15-Second Delay (Low Pressure Alarm): Green Indicator Light
Oxygen Percent: 50% and Greater Marked Red
30-Second Alarm Silence: Yellow Indicator Light/Push Button
Alarm Code Display (in Flow Window): Digital Display
Alarms
Low Pressure: Visual/Continuous Audible
High Pressure: Intermittent Audible
Apnea: Visual/Continuous Audible
Inverse I:E Ratio: Visual Warning
Increase Inspiratory Flow: Visual Warning
Reverse Battery Connection: Continuous Audible
Low Internal Battery: Visual/Continuous Audible
Low External Battery: Visual/Continuous Audible
Power Failure: Continuous Audible
Unit Malfunction: Intermittent Audible
Power Source Change: Continuous Audible
Oxygen: Continuous Audible
More Details