Nellcor Puritan Bennett Infrasonics Infant Star 950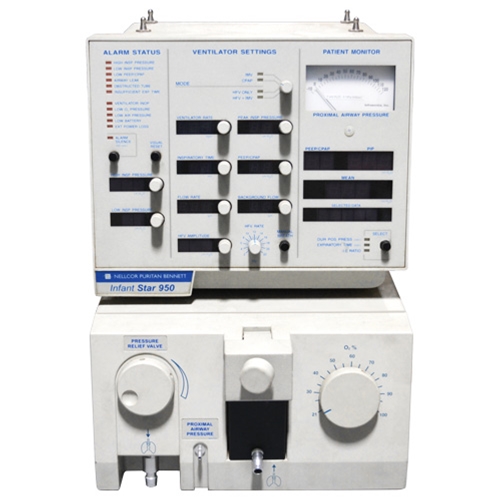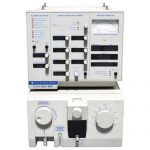 Nellcor Puritan Bennett Infrasonics Infant Star 950
Ventilator
Description
Infrasonics Infant Star 950 Features
The Nellcor Puritan Bennett
Infrasonics Infant Star 950
and 500 are time cycled, pressure limited, continuous flow ventilators, offering adjustable background flow in the CPAP and IMV modes. Operation in the CPAP and IMV modes is identical in the Infant Start 950 and the Infant Star 500. The Infrasonics Infant Star 950 / 500 are designed to provide continuous ventilatory support for neonatal and pediatric patients less than 40 lbs (18 kg), with an adjustable flow rate range from 4 to 40 liters per minute (LPM), and background flow range from 2 to 30 LPM.
Neonatal and pediatric patients.
Unique blender calibrated from 21 to 100% to help reduce gas waste.
RS-232 computer interface or monitor connection to collect ventilator information.
Dual microprocessors to control ventilator operation and display information.
Infrasonics Infant Star 950 Specifications
Dimensions
Height: 16.25" (41 cm)
Width: 11.25" (29 cm)
Depth: 19.25" (49 cm)
Weight: 50 lbs (23 kg)
Modes
Pressure-Controlled Modes: Assist/Control; SIMV; CPAP/BACKUP (these require Star Sync); IMV; CMV, CPAP
Flow-controlled modes: CMV (optional); SIMV
Combined modes: HFV, HFV + IMV
Waveforms
Pressure: Rectangular
Flow: Rectangular
Operating Range of Controls
Ventilator Rate: 1 to 150 bpm
PIP (Peak Inspiratory Pressure): 5 to 90 cmH2O
PEEP/CPAP: 0 to 24 cmH2O
Inspiratory Time: 0.1 to 3.0 seconds
Flow Rate (Mandatory Breath): 4 to 40 Lpm
Background Flow: 2 to 32 Lpm (demand system provides up to 40 Lpm total flow
Proximal Airway Pressure: -10 to 120 cmH2O
Mean Airway Pressure: 0 to 99.9 cmH2O
I:E Ratio: 1:0.1 to 1:99.9
Expiratory Time: 0.2 to 59.9
Duration Positive Pressure: Duration of positive pressure applied 1 cmH2O above baseline in seconds
High-Frequency Rate: 2 to 22 Hz
Amplitude: Measured HFV pulse pressure 0 to 160 cmH2O
Front Panel Controls
Ventilator Settings
Ventilator Rate
PIP (Peak Inspiratory Pressure)
PEEP/CPAP
Inspiratory Time
Flow Rate (Mandatory Breath)
Background Flow
Breath
More Details