Medtronic Puritan Bennett 980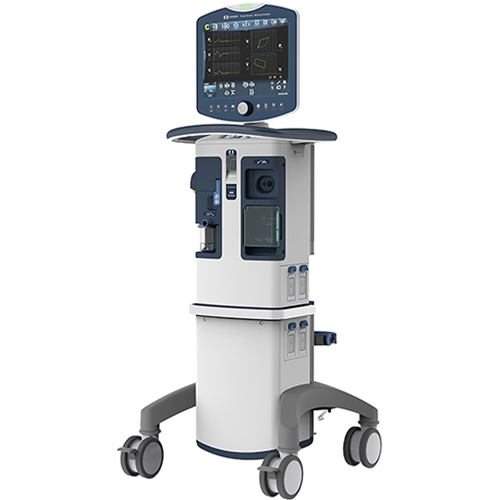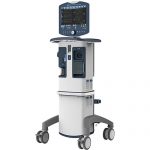 Medtronic Puritan Bennett 980
Ventilator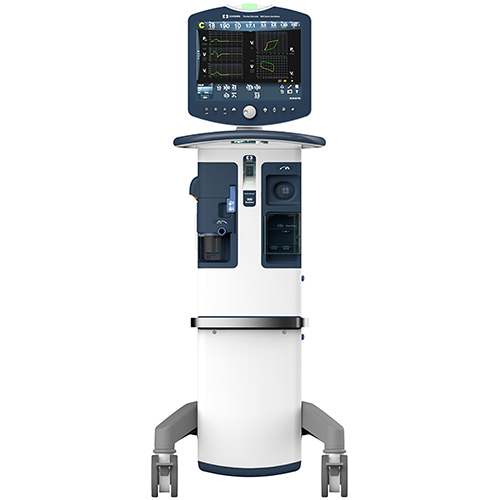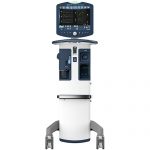 Medtronic Puritan Bennett 980
Ventilator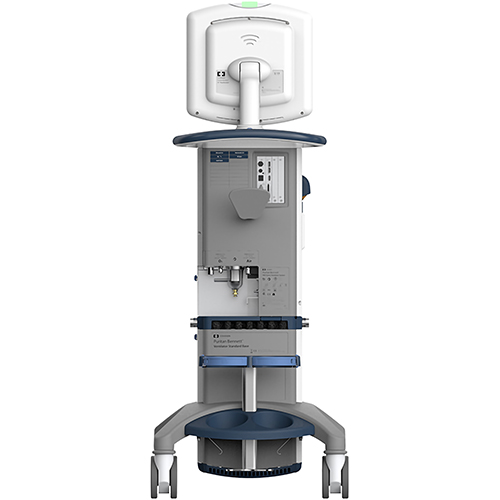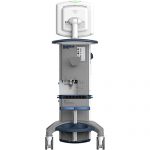 Medtronic Puritan Bennett 980
Ventilator
Description
Medtronic Puritan Bennett 980 Features
The
Medtronic Puritan Bennett 980
ventilator system helps patients breathe more naturally through innovative breath delivery technology. The Puritan Bennett 980 has an intuitive and highly configurable touch screen display that gives clinicians the options to see as little or as much information as needed including five graph and loop layout options. On the digital communication board, the PB 980 offers multiple USB ports for connections to external drives and an HDMI output port to project the touchscreen externally.
Simple, easy-to-use, and highly customizable touchscreen user-interface.
Expiratory filtration system.
Unique ventilator assurance feature which, in the event of certain system failures, will continue to deliver ventilatory support as close to the preset settings as feasible.
Proximal flow sensor that measures flow, pressure, and tidal volume.
Medtronic Puritan Bennett 980 Ventilator Specifications
Dimensions
Height: 58" (148 cm)
Width: 12.5" (32 cm)
Depth: 11.5" (30 cm)
Weight: 113 lbs. (51.26 kg)
Display
Size: 15" (38.1 cm)
Rotation: 170°
Tilt: Up to 45° from vertical
Pneumatics
Oxygen and Air Inlet Supplies: Pressure: 241 to 600 kPa (35 psi to 87 psi); Flow: Maximum of 200 L/min
Gas Mixing System: Up to 80 L/min for pediatric circuit type; Up to 150 L/min for adult patients.; Additional flow is available (peak flow to 200 L/min) for compliance compensation.
Maximum Limited Pressure (PLIM max): Limits circuit pressure to < 125 cmH2O (123 hPa) at the patient wye
Maximum Working Pressure (PW max): PW max is ensured by the high-pressure limit when PI is 90 cmH2O (88.26 hPa)
Measuring Devices
Pressure Measurements: Type: Solid-state differential pressure transducer; Sensing position: Inspiratory module, expiratory module
Flow and Volume Measurements: Type: Hot film anemometer; Sensing position: Inspiratory module, expiratory module; Type: Proximal flow sensor option utilizes differential pressure; Sensing position: Patient wye
Oxygen Measurement: Type: Galvanic cell; Sensing position: Inspiratory module
Oxygen Sensor Life: Up to one year; operating life varies depending on oxygen usage and ambient temperature
Filtration Capabilities
Internal Inspiratory Filter Bacterial/Viral Filtration Efficiency: > 99.999%
Internal Inspiratory Filter Particle Filtration Efficiency: >99.97% retention of particles 0.3 μm nominal at 100 L/min flow
Exhalation Filter Resistance (Adult/Pediatric, Disposable): <0.7 cmH2O at 30 L/min (new); <0.35 cmH2O at 15 L/min
Expiratory Filter Bacterial/Viral Filtration Efficiency: > 99.999%
Exhalation Filter Particle Filtration Efficiency, Pediatric/Adult, Disposable: Maximum of 0.03% penetration of particles 0.3 μm nominal at 30 L/min flow
Parameters
Predicted Body Weight (PBW): 3.5 kg (7.7 lb) to 150 kg (330 lb)
Modes: Assist Control (A/C), Synchronized Intermittent Mandatory Ventilation (SIMV), Spontaneous (SPONT), BiLevel, Continuous Positive Airway Pressure (CPAP)
Mandatory Breath Types: Volume Control (VC), Pressure Control (PC), and Volume Control Plus (VC+)
Spontaneous Breath Types: Pressure Support (PS), Volume Support (VS), Tube Compensation (TC), and Proportional Assist Ventilation PAV+ software
Ventilation Type: Invasive and Noninvasive (NIV)
Pressure Support (PSUPP): 0 cmH2O to 70 cmH2O
Rise Time %: 1% to 100%
Expiratory Sensitivity (ESENS): 1% to 80%; 1 L/min to 10 L/min with PAV+
Tidal Volume (VT): 25 mL to 2,500 mL; Resolution: 0.1 mL for values <5 mL; 1 mL for values 5 mL to 100 mL; 5 mL for values 100 mL to 395 mL; 10 mL for values ≥400 mL
Respiratory Rate (ƒ): 1.0 1/min to 100 1/min; 1.0 1/min to 150 1/min with Puritan Bennett 980 Universal ventilator
Peak Inspiratory Flow (VMAX): 3 L/min to 150 L/min
Plateau Time (TPL): 0.0 to 2.0 seconds
Inspiratory Pressure (PI): 5 to 90 cmH20
Inspiratory Time (TI): 0.2 to 8.0 seconds
I:E Ratio: 1:299 to 149:1
Expiratory time (TE): ≥ 0.20 seconds; Resolution: 0.01 s
Trigger Type: Pressure-triggering (P-TRIG) or flow-triggering (V-TRIG)
Pressure sensitivity (PSENS): 0.1 cmH2O to 20 cmH2O
Flow sensitivity (VSENS): 0.2 L/min to 20 L/min
O2%: 21% to 100%
Positive end expiratory pressure (PEEP): 0 cmH2O to 45 cmH2O
Apnea Ventilation Mandatory Type: PC, VC
Apnea Peak Inspiratory Flow (VMAX): 3.0 L/min to 150 L/min
Apnea Tidal Volume (VT): 25 mL to 2,500 mL
Apnea Inspiratory Pressure (PI): 5 cmH20 to 90-PEEP cmH20
Apnea Interval (TA): Apnea interval (TA) 10 to 60 seconds or Off in CPAP
Apnea Respiratory Rate (ƒA): 2.0 1/min to 40 1/min and ≥60/TA
Apnea O2%: 21% to 100% O2
Apnea I:E Ratio: ≤ 1.00:1
Apnea inspiratory time (TI): 0.20 to 8 seconds
Apnea expiratory time (TE): 0.20 to 59.8 seconds
Disconnect Sensitivity (DSENS): 20% to 95% or Off (when Puritan Bennett™ ventilator with Leak Sync software is disabled); 1 L/min to 65 L/min (when Puritan Bennett ventilator with Leak Sync software is enabled)
Humidification Type: Heat-moisture exchanged (HME), non-heated expiratory tube, heated expiratory tube
Humidifier Volume: 100 mL to 1,000 mL
Patient Circuit Type: Pediatric and adult
Respiratory Maneuvers
Negative Inspiratory Force (NIF): ≤ 0 cmH2O to ≥ -50 cmH2O
P0.:1 ≥ -20 cmH2O to 0 cmH2O
Vital capacity (VC): 0 mL to 6,000 mL
Advaned Displayed Patient Data
% Leak: 0% to 100%
Inspiratory Leak Volume (VLeak): 0 mL to 9,000 mL
Leak: 0 L/min to 200 L/min
Spontaneous Rapid Shallow Breathing Index (f/VT): 0.1 1/min-L to 600 1/min-L
Dynamic Resistance (RDYN): 0 cmH2O/L/s to 100 cmH2O/L/s
Dynamic Compliance (CDYN): 0 mL/cmH2O to 200 mL/cmH2O
Inspiratory Compliance (C20/C): 0 to 1.00
More Details