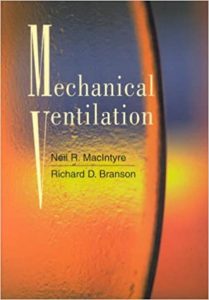 MacIntyre, N & Branson, R
Publisher: WB Saunders
Year: 2000
ISBN: 0721673619
This book was written by top authorities in respiratory care. It is an excellent resource that implements a clinical, practical approach to the management of mechanical ventilation. It is divided into sections focusing on the technical aspects and physiology of mechanical ventilation, adjunct therapies, specialized techniques, and future therapies. This text guides readers in the effective development of management protocols and the use of state-of-the-art techniques.