Fundamentals of Mechanical Ventilation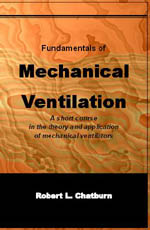 Chatburn, Robert L.
Publisher: Mandu Press LTD
Year: 2003
ISBN: 097294382X
Book
This unique book is written from the perspective of how ventilators work. Unlike other texts on the subject that focus on clinical applications, this book shows you how to think about ventilators, when to use various modes, and how to know if they are doing what you expect. Mechanical ventilation is still more an art than a science. this book focuses on how to master the instrument. Once you have done this, you will be able to make the best use of other books and your own clinical expertise.
Click here to download 40 sample pages (PDF format, 900Kb)!
Features
Defines jargon
Written to provide understanding at three levels; basic, comprehensive, expert
Covers ventilator design and how to understand and select modes
Complete coverage of graphic display interpretation including waveforms and loops
Accurate wavefor illustrations based on mathematical models
Review questions throughout text
Self-assessment questions at the ends of chapters, with answer key
Complete glossary
Also check out Robert Chatburn's new book, Handbook for Healthcare Research!
Reviews
Click here to read the book review from Focus on Respiratory Care magazine (Adobe Acrobat [PDF] format)
Click here to read the book review from Advance (Adobe Acrobat [PDF] format)
This book is an exciting new concept for mechanical ventilator texts. The Chatburn text truly goes where no other ventilator texts have gone before! The three levels of mastery also allow for appropriate utilization for numerous professional audiences. As an educator, I feel that once students understand how various ventilators, modes, and controls interrelate, "state of the art" applications to clinical conditions can be presented more effectively. I also consider the varied support questions accompanying each chapter a valuable tool.
Louis N. Harris EdD, RRT Director, BSRC Program Youngstown State University
About the Author
Robert L. Chatburn, RRT, FAARC is director of respiratory care at University hospitals of Cleveland and associate professor of pediatrics at Case Western Reserve University.
Click Here to buy on Amazon!