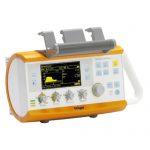 Drager Oxylog 3000
Ventilator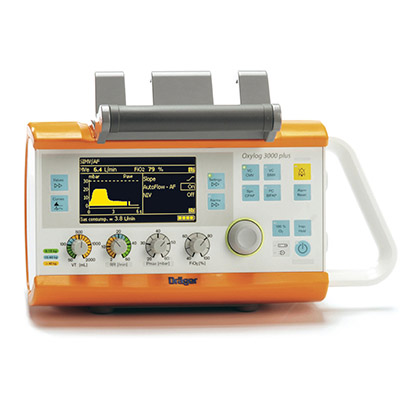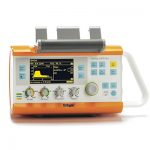 Drager Oxylog 3000
Ventilator
Description
Drager Oxylog 3000 Plus Features
The Drager Oxylog 3000 Plus emergency and transport ventilator offers high ventilation performance with features such as AutoFlow integrated capnography and non-invasive ventilation. The compact and robust Oxylog 3000 Plus helps you transport your patients safely and provides feedback on correctness of intubation and ventilation effectiveness.
High confidence during transport.
Wide range of ventilation modes and AutoFlow.
Integrated capnography.
Ready for pediatric patients.
Automatic altitude compensation (BTPS).
Intuitive user interface.
Advanced data export functionality.
Drager Oxylog 3000 Plus Specifications
Dimensions
Height: 7.2 In (18.4 cm)
Width: 11.4 In (29 cm)
Depth: 6.9 In (17.5 cm)
Weight (Including internal battery): 12.8 lbs (5.8 kg)
Display
Technology: Electro-luminescence (EL)
Resolution: 240 x 128
Dimensions: 4.3 x 2.2 In (10.8 x 5.6 cm)
Wireless Network
Standards: IEEE 802.11g, Wi-Fi compatible
Frequency Range: 2.412 to 2.462GHz
Ventilation Modes
VC-CMV, VC-AC, VC-SIMV, SpnCPAP, PC-BIPAP
Ventilation Settings
Pressure support: in the ventilation modes VCSIMV, PCBIPAP and SpnCPAP
Apnoea ventilation: in the ventilation mode SpnCPAP
AutoFlow (optional): in the ventilation modes VC-CMV, VCAC and VC-SIMV
NIV: in the ventilation modes: SpnCPAP (/PS), PC-BIPAP (/PS), VC-CMV /AF, VC-AC /AF and VC-SIMV/AF
Ventilation Respiratory Rate
2 to 60 /min (VC-SIMV, PC-BIPAP)
5 to 60 /min (VC-CMV, VC-AC)
12 to 60 /min for apnoea ventilation
General
Tidal volume: VT 0.05 to 2.0 L; BTPS
Ti / I:E: I:E or Ti configurable, for all ventilation modes
Ventilation Time Tatio I:E: 1:100 to 50:1
Inspiration Time Ti: 0.2 to 10 s
Inspiratory Pressure Pinsp: PEEP +3 to +55 mbar
O2 Concentration: 40 to 100 Vol.%
PEEP / CPAP: 0 to 20 mbar
Trigger Sensitivity (Flow Trigger): 1 to 15 L/min
Pressure support ΔPsupp: 0 to 35 mbar (relative to PEEP)
Slope (Pressure Rise Time): Slow, standard, fast
More Details