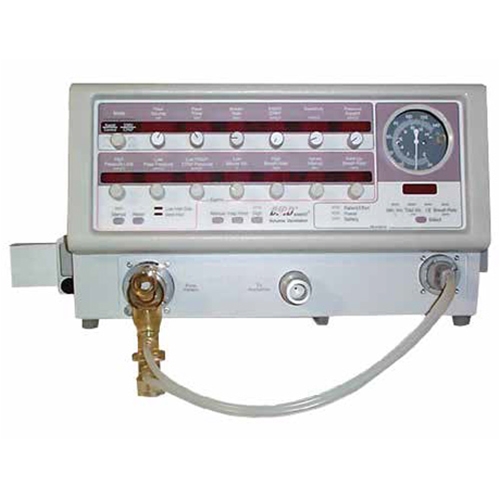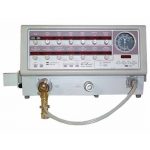 Description
Bird 8400ST Features
The
Bird 8400ST
volume ventilator is an electrically powered, microprocessor-controlled, volume cycled, pressure limited critical care ventilator designed for both adult and pediatric use. The Bird 8400ST has a compact and simple design. The electronic controller system is based on three microprocessors.
Selectable ventilation modes for control, assist/control, SIMV, and CPAP.
Apnea backup ventilation with user adjustable apnea interval from 10 to 60 seconds.
Wide range of ventilator rates and tidal volumes.
Digital display for total breath rate, tidal volume, minute volume, and I:E ratio.
Square and decelerating waveform selection.
Bird 8400ST Specifications
Dimensions
Height: 9" (22.9 cm)
Width: 21" (40.6 cm)
Depth: 13.5" (34.3 cm)
Weight: 32 lbs (14.5 kg)
Controls
Modes: Control Assist/Control, SIMV, and CPAP
Tidal Volume: 50 to 2000 ml
Peak Flow: 10 to 120 lpm
Breath Rate: 0 to 80 bpm
Waveforms: Square, Decelerating
Pressure Support: off to 50 cmH2O
Assist Sensitivity: -1 to -20 cmH20, Off
PEEP/CPAP: 0 to 30 cmH2O
Manual Breath: Touch button activated
Inspiratory Hold: 6 seconds (maximum)
Sigh: On/Off – 1 Sigh/1000 breaths
Sigh Volume: 1.5 x Tidal Volume (up to 3000 ml)
Sight High Pressure Limit: 1.5 x set (up to 140 cmH2O)
Alarm Silence: 60 seconds
Alarm Reset: Touch button
AC Line ALT PWR Source: Slide switch for AC or DC operation
Alarm Volume: 74 to 84 dB
Back Up Breath Rate: 0 to 80 bpm
Monitors
Power "ON": Green indicator lamp
Minute Volume: 0 to 130.0 L
Tidal Volume: 0 to 9999 ml
Breath Rate: 0 to 255 bpm
I:E Ratio: 1:1.0 to 99 or 1.0 to 99:1
Airway Pressure: -20 to 140 cmH2o
Battery "On": Yellow indicator lamp
Hourmeter: 0 to 99,999 hours
Pneumatic
30 to 70 PSIG (2.10 to 4.90 kg/cm2
More Detail