Arterial Blood Gas (ABG) Pocket Guide (With Included Instructional Guide)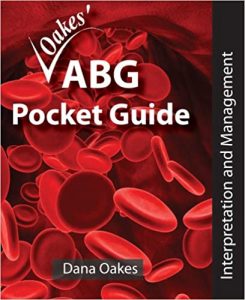 Oakes, Dana
Publisher: Health Educators Pub
Year: 2009  Edition: 1
ISBN: 0932887376
THE STUDENT'S GUIDE TO RESPIRATORY POCKET REFERENCES and THE CLINICIAN'S GUIDE TO RESPIRATORY POCKET REFERENCES. They contain comparison tables that compares and contrasts all the currently available pocket guides. 
There is a whole world beyond basic classification (acidosis versus alkalosis, respiratory versus metabolic). This guide takes one beyond classification into the realm of interpretation, to include double and triple disorders and easy understanding of anion and bicarbonate gaps all of which play crucial roles in proper interpretation of ABGs.
Complete with a comprehensive instructional guide, you will find yourself amazed at what you didn't know, and empowered with the new tools you pick up for true critical care management of complex patients.